Accredited Specialist Solicitors for Personal Injury and Medical Negligence Compensation Claims

click here for more information about our accreditation
Tell us about your accident and we'll tell you...
If you have a claim

How much it's worth

How to proceed
Find Out How Much You Can Claim
FACT: 70% of people who can claim compensation
don't bother! It's so simple, just ask us a question
Accredited Specialist Solicitors
Here at Bonallack and Bishop Solicitors [who run this How To Claim Compensation website]  we take specialist accreditation very seriously. Our team of compensation claim solicitors includes members of the following 3 specialist panels.
AvMA
Action Against Medical Accidents (AvMA) is a highly regarded UK charity, which has more than 30 years' experience supporting over 100,000 victims of medical negligence [often referred to as clinical negligence] and campaigning nationally on their behalf. It pioneered the establishment of specialist medical negligence panels by setting up its own highly specialist panel of the most experienced and very best medical negligence solicitors. Only a few hundred solicitors, out of more than 100,000 qualified in England Wales, are considered good enough by AvMA to make it onto this panel, and even they need to satisfy a regular reaccreditation. To quote from the AvMA website,
"In our opinion, specialist solicitors are much more likely to make an informed assessment of the chances of success in claiming compensation for clinical negligence."
According to AvMA themselves, their panel is one of only  "two recognised 'panels' (or approved lists) of solicitors who have been assessed as being specialists" in medical negligence – with the other being run by the Law Society – see below.
Click here to visit the AvMA website and find more about their panel.

Law Society Personal Injury Accreditation Scheme
This is the leading panel for accident compensation claim solicitors. By appointing a solicitor on this panel, you can rest assured that you have picked a genuine specialist, and your case will not be handled by an unqualified call centre operative, but by an independently accredited solicitor specialising in personal injury work, with many years experience of helping victims of accidents, just like you, to claim the compensation they deserve.
To quote the Law Society themselves, appointing a personal injury panel member to handle your claim is a "guaranteed way of identifying a specialist legal adviser". All panel members have been independently approved by the Law Society in a strenuous accreditation process as an expert in personal injury claims. What's more, like the AvMA and Law Society Clinical Negligence Scheme, this panel requires reaccreditation every five years.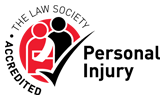 Law Society Clinical Negligence Accreditation Scheme
The Law Society is the independent professional body for solicitors in England and Wales. They run the other nationally recognised specialist medical solicitors panel – the Law Society Clinical Negligence Accreditation Scheme- which in their own words "only accepts solicitors who have a high level of knowledge, experience and practice in medical negligence cases".
Like the AvMA panel membership this panel is highly restricted, with only a few hundred solicitors considered good enough for panel membership.
Just 180 solicitors nationwide are members of both panels. The head of our medical negligence team, Denise Broomfield, is one of them.
Click here to visit the Law Society website and find more about their Clinical Negligence Accreditation Scheme.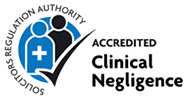 Want To Know How To Claim Compensation? Call us now
For FREE initial phone advice, and a FREE 1st appointment from expert Solicitors on all types of  compensation claims;
Call our team now on FREEPHONE 0800  1404544 or
Complete the enquiry box at the top of this page, or fill in the email contact form below for a reply by email or a call back at a time when it's convenient to you
No Obligation

Accredited Specialist Solicitors

Response Within 60 Minutes

Free Service