Accredited Specialist Solicitors for Personal Injury and Medical Negligence Compensation Claims

click here for more information about our accreditation
Tell us about your accident and we'll tell you...
If you have a claim

How much it's worth

How to proceed
Find Out How Much You Can Claim
FACT: 70% of people who can claim compensation
don't bother! It's so simple, just ask us a question
Accident at work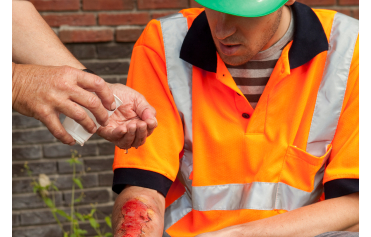 Incidents that result in work accident compensation claims harm more than just the worker involved, it also harms his family.
A work accident can affect the worker's ability to earn a living, either in the short or long term, and can have a disastrous effect on his ability to afford a home.
Worse still his spouse may have to give up work to care for him, leading to an even bigger drop in living standards.
In such circumstances it is only right and proper that the injured party makes a compensation claim for personal injury.
These UK accident work compensation claims are designed to give recompense to
those suffering such misfortune in the workplace.
Even if the injury is not particularly serious the employee has every right to make a claim.
The overriding rule for anyone making a compensation claim is that they were not at fault for the incident. The person the claim is being made against should be at fault, either through negligence or a deliberate act.
When making such a claim two things must be outlined;
who was responsible for the worker's injuries, and
ACCIDENT AT WORK CLAIMS-COLLECTING EVIDENCE
The extent of the injury is decided by the medical profession, either at the A& E department in the local hospital, or by the injured worker's own GP.
It is also important that place of work is immediately informed of the accident and the incident noted in the Accident Book.
The doctor's role is vital. As well as providing medical attention for the worker involved in the accident, his notes will be used in the accident claim.
The claim itself will be handled by the legal profession, either provided by the worker's trade union or a compensation solicitor he finds himself.
There are plenty of legal practices willing to fight work accident compensation claims. They operate on a no win no fee basis so the worker does not have to pay a penny when pursuing a claim.
If you have a question regarding an accident at work and think you may be entitled to compensation, just ask us a question in the box provided and we will get back to you within the hour with all the information you need.
WANT TO KNOW HOW TO CLAIM WORK ACCIDENT COMPENSATION? CALL US NOW
For FREE initial phone advice, and a FREE 1st appointment from expert Solicitors on all types of  accident at work compensation claims;
Call our team for FREE initial advice now on FREEPHONE 0800  1404544 or
Complete the enquiry box at the top of this page, or fill in the email contact form below for a reply by email or a call back at a time when it's convenient to you
No Obligation

Accredited Specialist Solicitors

Response Within 60 Minutes

Free Service